ZOEVA
Classic Eye Set (set of 6)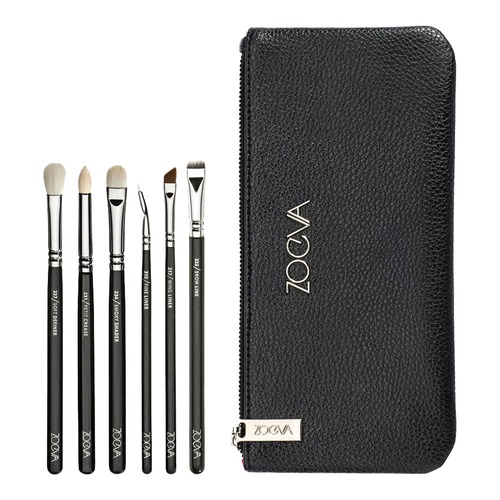 Classic Eye Set (set of 6)
set of 6
RM222.00
Free Delivery
About

The ZOEVA Classic Eye Set presents an exclusive selection of six high-quality eye brushes. From subtle to seductive, create professional eye makeup look with these ultimate must-haves for applying eyeshadow, eyeliner and brow definers.

Set Includes


Luxe Soft Definer.
Luxe Petit Crease.
Luxe Smoky Shader.
Fine Liner.
Wing Liner.
Brow Liner.
Small clutch.

Natural and Synthetic fibres

227 Soft Definer: use to blend and smooth eyeshadow across the eyelid.
231 Petit Crease: use to accentuate and blend eyeshadow into the crease.
234 Smoky Shader: use to shade and blend eyeshadow for a smoky effect.
315 Fine Liner: use for precise eyeliner application.
317 Wing Liner: use for detailed eyeliner strokes and a perfect wing.
322 Brow Line: use to apply powder and cream products onto the eyebrows.
All of our products are 100% authentic
ratings & reviews
26 reviews
Fida
Few great product
I am new to eyeshadow and habing this kit really helps as it contain most of the brush needed if u want to do eye makeup. However, as an amateur, i dont really use all the brush most of the time. I only use two to three brush available in this kit. For those who eye makeup is ur thing, buying this will definitely helps. But those who new like me, its better to buy separately as we wont be using most of it all the time. The price for this kit is definitely worth it as it is considered cheap considered if u want to buy it piece by piece. As an overall, i am happy with my purchase as i do use the brush as it makes my eye make up blended well. I wish if all the product in this kit is vegan.. Its a combination
Roo
Great
Zoeva brushes are some of my top favourites. Hall of favourites worthy. These brushes lasts a long time and does the job really well. I think this is a great starter set for eye brushes as it includes everything you need to get that look right whether it is a basic look or a bombshell look. Many loves.
Jes
Best Buy
ok i admit im a Zoeva Brushes addict i already owned every brushes in this set but being a new MUA i had to purchase another brush set and i really recommend this set because everything you need are included in this set and every brushes is very useful even the pouch though,  so the price was really worth it. 
Juliana
Great essential eye set!
This set of eyebrushes is quite wonderful... 1. The brow brush is the right size and stiffness.. perfect 2. The angles eyeliner brush does a great job for a fine and elegant liner 3. The shader brush works better than Mac 239.. firm and deposits colors well 4. The blending brush simple blends like a dream! The best! 5. The crease definer brush is sinply great too for small Asian eyes 6. The angled eyeliner.. did not like this one as it was a bit scratchy.. and doesn't even come close to Mac 263. This one is a miss. Overall its a great starter set.. love the pouch too!
Reilly
Love these brushes!
This is the perfect set of eye brushes for a beginner like me, who is just starting out. The brushes are really soft and easy to use and I have a purpose for every single brush in the set. Just having these brushes has definitely improved my makeup skills - especially for eyeshadow and liner.
Vanessa
Great Brushes
These brushes are fantastic, the brow brush I find to be exceptionally excellent for applying a brow gel! The brushes are soft and maintain shape after being washed. The eyeliner applications make gel liner simple and easy to apply!
Carla williams
Will buy more!
These are the best quality brushes I have tried for a very reasonable price. I intend to purchase more of these Zoevea brushes. The make up bag it comes in is great quality too. Will be fantastic for travel.
Lippielover
Mehhh...
I think these are sufficient for those starting with eye make up but. However, I didn't find the blending brush to be that great. It would have been better if it was not so flared. Since I don't use gel liner, I've been using the bent liner brush for spot concealing with a thick concealer though the bristles can't carry much product.  I really enjoyed the tapered blending brush for lining the lower lashline and highlighting the inner corner. The angled brush is great for lining eyes with dark eyeshadow or smudging eyeliner.  I don't use eyebrow powder but it seems to be too dense for applying cream or powder product on the eyebrows. It will apply a concentrated amount so I would suggest removing majority of the product off the brush so it won't look too strong.  The shader brush was decent but had hoped it would have been denser and with shorter bristles to really help pack product.The bristles of the brush were not scratchy and decently soft. Overall, I think this isn't bad but not great either. 
Natalie
Love!
All of these brushes are of a very high quality, they feel amazing, and are all very easy to use. The set contains all the essentials you need. These are now my go to brushes when doing my eye makeup. The case they come in is also very nice and the quality. 
Loshini karu
Worth it
This is a very good beginner's eye brush set. There is everything you need in this. If you do have smaller eyelids, do be careful when taking a lot of product and being too hard with the brush. Be more precise and gentle. Besides that, well worth it!