Just Herbs
Pedisoft Calendula-Peppermint Crack Cure Foot Cream 50g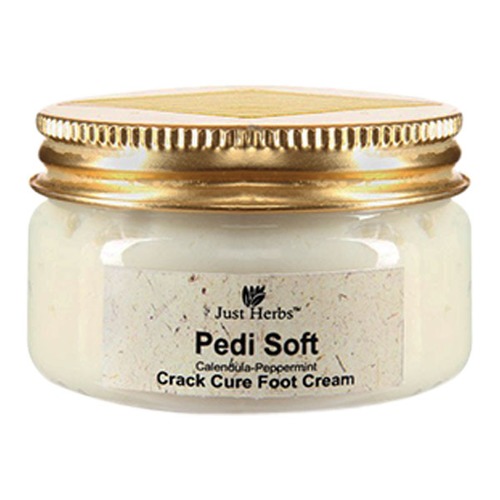 Pedisoft Calendula-Peppermint Crack Cure Foot Cream 50g
50g
RM53.00
Free Delivery above RM80.00
About

Pedisoft Crack Cure Foot Cream is an Ayurvedic blend that helps to recondition chapped skin and restore petal soft feet. Formulated with natural extracts from Indian Frankincense, Fenugreek and Sal tree, this cream provides moisture and refreshes tired feet. The peppermint and calendula in the cream offers a tingly texture to enhance skin soothing.  

Benefits

Softens stubborn, hard skin on the feet
Rehydrates skin on the feet
Contains certified organic cold-pressed sunflower seed, castor and aloe vera oil
Free from petrochemicals, parabens and other synthetic ingredients
Non-GMO

Calendula, Peppermint Oil, Nutmeg , Fenugreek Ext., Liquorice , Indian Frankincense, Zinc Oxide Sunflower Seed Oil, Caprylic/ Capric Triglycerrides, Beeswax, Avocado Oil, Castor Oil, Safflower Oil, Jojoba Oil, Aloevera Oil,Vegetable Glycerine, Soy Lecithin, Shea Butter, Dicaprylyl Carbonate, Disodium Edta, Potassium Sorbate, Sodium Benzoate, Natural Preservative (Herbs Essential Oil Complex), Fragrance.Certified Organic Certified Organic Cold Pressed Ecocert Approved (Natural Ingredient From Renewable Resources)

Before using Pedisoft Crack Cure Foot Cream, make sure your feet are well-cleansed.
Massage the cream all over your feet, focusing on areas prone to dryness such as the heels.
Leave in for a few minutes for the vitamins to seep in.
To cleanse, soak your feet in warm water mixed with a mild bodywash. 
For extra dry or cracked skin, fill your feet with cream and leave on overnight.
All of our products are 100% authentic
ratings & reviews 27 reviews
Maj baquiran
Good product
A little goes a long way, this softened and moisturized really well. I walk a lot in sandals and thongs and this was really effective in Singapore's hot sunny weather, really helps to restore skintone and reduce ashiness.
Jc
Pedi Soft
This cream is quite ordinary and can be costly for its price and size.  I bought this on sale, but is still expensive considering the results of the product.  It seems like an ordinary cream or lotion product.  
Doralin kelly
Nice natural peppermint smell
Really starting to love Just Herbs products. This foot cream has a nice (mild) peppermint scent to it and after application really leaves your skin feeling super smooth. Probably best to apply before bedtime so you don't slip and slide all over your house when walking around after. ;)
Tsubame
Disappointing
I was really surprised to see the small bottle (smaller than my palm) when I first received it, as usually body and bath products come in bigger sizes. The cream is thick in texture but its as moisturising as it claims to be. It does no changes to the rough part of my feet and I don't feel the mint in the product as well. A big disappointment. Will not repurchase this product.
Jessica wang
its ok
The cream is very thick, can't feel any peppermint effect when I put on my feet. Will not repurchase this item as I don't see any effects of using this compare to other normal lotion like Nivea. P.S. Nivea smells better too.
Zana
thick paste
This cream is thick. Nice to lather on dry heels n feet after a long day before going to bed. Best to wear thick sock to retain the cream on feet so as not to transfer on bedsheets of theres a need to walk around after applying the cream. Have to regularly to see effect of it.
Lim xin yi
Value for money
I use this after my étude house foot scrub. The combination of both is really awesome. My feet does feel smooth the next day. It is kind of oily in my opinion, so put on some sock if you still plan to walk around after applying this. 
J
Moisturising
Contrary to other reviews, I actually don't mind the scent. The cream is really moisturising and I would wear my socks after applying it so that it does not get anywhere. Woke up to softer skin on my heels but would need to apply it diligently for better results.
Roslind yap
No to CRACK FOOT
This product is amazing.... I have crack foot problem quite sometimes...... I have try several branded cream to cure my crack foot..... but too bad.... my problem never solve..... After using this cream..... my feet skin become soft and the cracking problem solve... but have apply 2 times daily...... but the smell is bit uncomfortable.......
Jayy
Not bad
I don't see my cracked heels improving but it could be due to my lack of discipline to apply it every night. It is a good product though - it does feel nice and concentrated when applied on my feet. I don't like the scent that much but I wasn't expecting a nice scent anyway. The small jar is a downside but you don't need to apply a lot each time.