GUERLAIN
Meteorites Compact - Light-Revealing Powder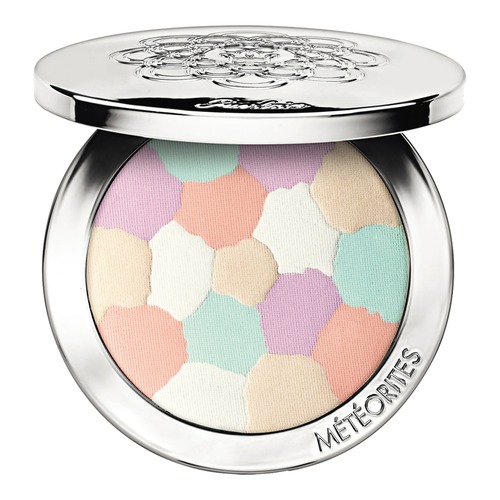 Meteorites Compact - Light-Revealing Powder
RM257.00
RM257.00
RM257.00
2. Clair
3. Medium
4. Dore
Free Delivery
About

Guerlain's Météorites Compact features a signature palette of corrective matte shades that range from refreshing pink to light-catching mauve that help to gently balance the complexion, while its dazzling pearls temper the shades' intensity and blend harmoniously for perfectly tailored luminosity. Create soft, glowing skin that appears smooth, delicate and natural with Météorites pearls. Together, they create a subtle and natural effect by giving every skin tone just the right amount of light and correction while offering a violet fragrance that's original and totally addictive.

Use the Météorites Brush (sold separately) to apply evenly to the entire face to set makeup.



To boost radiance, highlight the cheekbones and other high points of the face by tracing a 'G' from the center of the forehead toward the top of the cheekbone, the from the bridge of the nose toward the chin.
All of our products are 100% authentic
ratings & reviews
1 review
Lezel asrie
3. Medium -
Adds a beautiful touch to the skin
I'm a Meteorites newbie so the decision to get this vs the pearls was an extremely difficult decision to make. For one, there is a whole lot more product for the same price (pearls) and the shiny little coloured pearls are just soooo pretty. So why did I get the compact instead? First of all, maintenance. A compact is flat and easy to travel with. Secondly, I'm terrified that the pearls will get smashed in transit. So once I received it, I knew I had made the right decision. The compact is beautiful and slightly weighted so it makes for a nice grip and feel. I used this powder at the last step of my makeup (after setting powder), and just lightly dust everywhere. It doesn't really leave much of any colour or even a trace but I can see that my skin just has that slight glow and a beautiful finish. Do not get this thinking that it will mattify or as a highlighter. It does neither. As I'm usually a "no make up" make up person, I find that this really enhances my complexion without having to do much at all.