Dr. Jart
Mask Water Jet Vital Hydra Solution 5 Sheets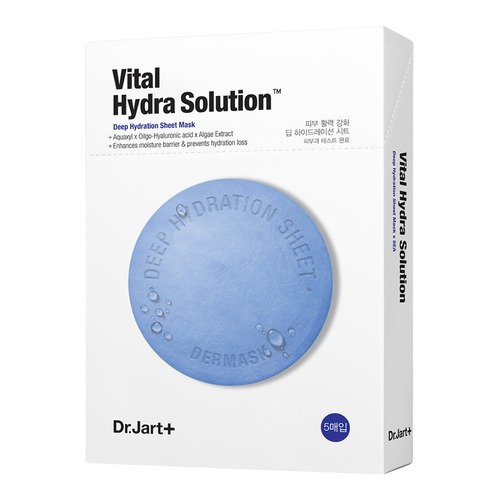 Mask Water Jet Vital Hydra Solution 5 Sheets
RM118.00
Free Shipping
About

What it is: A cellulose sheet mask that deeply hydrates, replenishes, and protects skin's own moisture. 

What it is formulated to do: Made of fine cellulose fiber, the lightweight, transparent mask allows pores to fully absorb essential nutrients and moisturizing ingredients for an ultimate hydration therapy. It immediately hydrates dry skin due to lack of moisture while aquaxyl—a patent moisturizing ingredient—enhances moisture retention and strengthen barrier function. Ultra-low molecular weight hyaluronic acid activates skin moisture with high absorption, and seaweed extract, which containins algeinicacids, moisturizes and removes impurities. 

What it is formulated WITHOUT: - Parabens - Sulfates  - Phthalates
All of our products are 100% authentic
ratings & reviews 3 Reviews
Wang yejun
Not suitable for sensitive skins
I like the smell as well as the texture of the mask, but not suitable for sensitive skins :-( It feels itchy and a little bit stinging while using the mask. The next day my face became red and itchy.
Yy
Ms
the product is very good, the only matter is the price. this 1 box is selling $38, and 1 pc is selling $7, which means if i buy 5 pcs individually, it will only cost me $35, but if i buy 1 box instead, it will cost me $38? i think it is not reasonable. so everyone, better buy pc by pc instead buy a whole box...
A
Life changing
I love Dr Jart masks. I picked up the Ceramidin mask in Korea and it's pretty hard to find without having to go through Sephora US. Snapped up this Hydra Solution mask immediately upon seeing it, and it completely delivers. My skin is thin and dry, with frustrating pores, but I do this at night and I'll be good for the next couple of days. Totally worth it, would hoard at every opportunity.